What is a Bridal Secretary?
A Bridal Secretary is someone who comes to you and provides all your needs on your wedding day, from hair to makeup to jewelry. You no longer need to go to a bridal shop or salon and wait for the stylist and makeup artist to be ready. She is at your service from morning preparations and the wedding reception.
Why do you need a Bridal Secretary?
Thinking about wearing makeup all day through your wedding day without a touch-up? You may look back on your wedding pictures with regret as your face looked shiny as it got oily throughout the day, or your hair got messy as the wind blew. What if there was a professional makeup artist on stand by for you to take care of all these problems so that you could smile with confidence all day. Satine works quick and skillfully to change your makeup and hairstyle according to the dresses that you are planning to wear, matching it with a specially designed necklace and hair accessories (Please visit Satine Studio Jewelry Collection). In a short time you will become a beautiful bride all day, at anytime.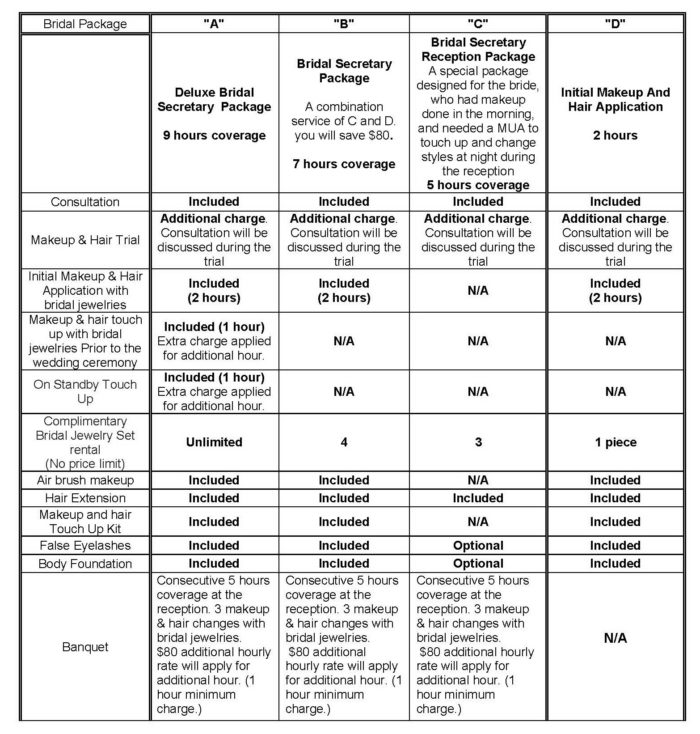 F – A Bridal touch-Up on location
G – Bridal touch- up with an additional style change on location
• Provide a hair jewelry OR a necklace
• No extra charge for hair extension
• A security deposit is required for the hair extension and the jewelry.
H – Trial makeup & hair (in studio only)
Bridal events are booked on a first come, first serve basis. Scheduling or attending a trial does not ensure first priority in booking of an actual wedding date; the first priority is reserved for the first party to set a deposit and sign an agreement for the specified time, date, and duration.
Please note:
Transportation charges may apply for out of service area, 25 kilometers from M1V 4S5. $1 per additional kilometer and any parking fee.
The earliest appointment starts at 5:30 A.M. There will be $100 hourly charge to start before 5:30 A.M. $50 for additional makeup artist (per artist).  One hour minimum charge.
No reservation is guaranteed until a deposit is secured. Please be aware that a walk-in client may book your designated date on the spot, hence we will not be able to provide any advanced notice. If interested, please secure the deposit in advance with service agreement signed to avoid any disappointment.
*All prices and services are subject to change without notice* (Although will not affect bookings already secured with deposit)
Satine Studio #Bridal Secretary #Toronto Asian Makeup Artist #Markham wedding makeup artist Since 2003. All Rights Reserved.